No bullying in Kärpät
28.06.2022
The long partnership between Oulun Energia and Oulun Kärpät is seen in practice in the Oulun Energia Arena in Raksila. However, the partnership and aims go much deeper than the surface. Both want to act as responsible leaders and strive to make their environments better through their own actions. In connection with the theme of the anti-bullying sports day we held in June, we interviewed Lauri Marjamäki, head coach of Oulun Kärpät, who opened up his own views on coaching and activities based on Kärpät's values.
The anti-bullying sports day held jointly by Oulun Energia, Oulun Kärpät and AC Oulu on 10th June attracted almost 200 children and young people to test their own skills under the guidance of professional players in the Heinäpää and Raksila sports centres. Behind the anti-bullying message the organisations aimed to promote people's wellbeing and to speak on behalf of anti-bullying.
Responsible leader and half the Finnish team
Two important values – caring and competitiveness are emphasised in Kärpät's activities this year. "The whole team and club have committed to complying with the values chosen in everything we do. The values are reflected in our everyday activities such as how we treat each other, how we make each other better players and the way in which the team-first mentality is seen. This is how appreciation of others is formed both within the team and outside of it," sums up Lauri Marjamäki, Oulun Kärpät's head coach.
The clubs accepts no bullying or discrimination in any form. The junior teams have worked hard, for example, so that Kärpät players work in school against bullying – do not accept it and ensure intervention in it.
"As the whole of Northern Finland's shared team it's important to understand the impact of our example on our environment. This gives us a chance to promote things that are important to us but which at the same time means a huge responsibility to do the right thing. In whatever we do, we want to communicate that everyone can be themselves and be accepted just as they are. We have promoted this among the players through discussions and thought, for example. There are plenty of examples in Finland, too, of where bullying can lead to the worst case scenario," Marjamäki says.
The anti-bullying theme is strongly reflected in Kärpät's junior activities but is not forgotten in the league team either. Marjamäki emphasises appreciation of each professional group and seriously questions unfair treatment based on status. He hopes that everyone is treated in the same way regardless of their occupation or background. "For example, I've always been mad about ice hockey and do it with joy and passion, but that doesn't entitle me to any special rights in life."
Life skills come first in coaching
Marjamäki's job roughly consists of coaching in three different areas: life skills, sports skills and game skills. As a coach, Marjamäki wants the players to always first think about life skills, which include everyone's responsibility for their own sports career, for example. He wants to make the players aware of their own strengths and to understand what self-confidence and self-esteem consist of and how they are developed.
During his 28 years as a coach, Marjamäki's coaching philosophy has evolved towards holistic coaching. "I began coaching as a technical tactical nerd at the age of 17. During my career I've come to notice what things are really important. I've thought a lot about how these things can be integrated into coaching and in what we do every day."
This is why sports skills and game skills come after life skills in Marjamäki's coaching, "Sports skills highlight what it's like to be a top athlete around the clock. The importance of diet, circadian rhythm and sleep for recovery and development. As we move forward on these issues, we develop as players and as a team."
Life skills are also well reflected in junior activities, where they have an important role in educating young people. "According to some studies, teenagers aged 13 to 15 years spend just some 10 minutes a day with their parents. When you think of this at the club level, we have a huge responsibility to create a safe, caring and motivating atmosphere and to equip each child and young person involved in club activities for life in the best possible way," Marjamäki says.
Meaningfulness of work is more than just numbers on a scoreboard
A coach is constantly being evaluated both on the scoreboard and in newspaper columns. Marjamäki thinks that the right feedback channels can be found in things that are meaningful to him. "Absolutely the best feedback channel is honest feedback from individual players. Whenever a former or existing player comes to tell me about the relevance I've had on their career or experience of playing as part of my team they make my work meaningful in a completely new way."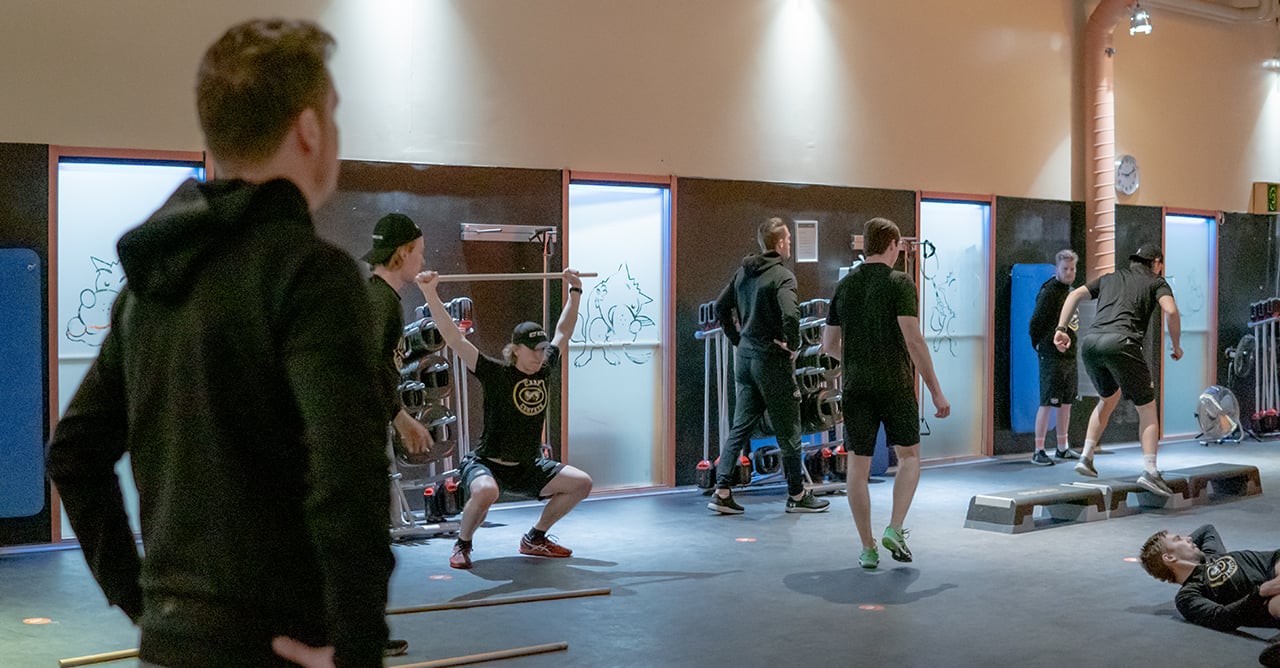 Development and winning are the stereotype indicators of success. For Marjamäki, part of the success of coaching is that he sees his team grow over the season. "It's rewarding to see how everything starts to play out how I envisioned it ahead of the start of the season. Once things migrate from my own speech to make the team a team and part of the team's character."
Morality lays the foundation for doing things
Professional sports involves many ethical and moral issues, which Marjamäki continuously considers. "Is winning everything and what are we prepared to do to win? What are the values, morality and motivation of my coaching philosophy? How are these reflected in my own activities?"
Morality and ethics are also highlighted in how Marjamäki hopes to draw attention to how we talk and write about sports as a society. "Sports is positive and unifying. All the same, we mostly write about it in a negative tone. Could we see things in a more positive light and air them in public positively, too?"
Kärpät nurture, take care of and encourage exercise
As a sports club, Kärpät have an important social role. "In the big picture, we prevent cardiovascular diseases, we teach an active life and do educationally important work," says Marjamäki.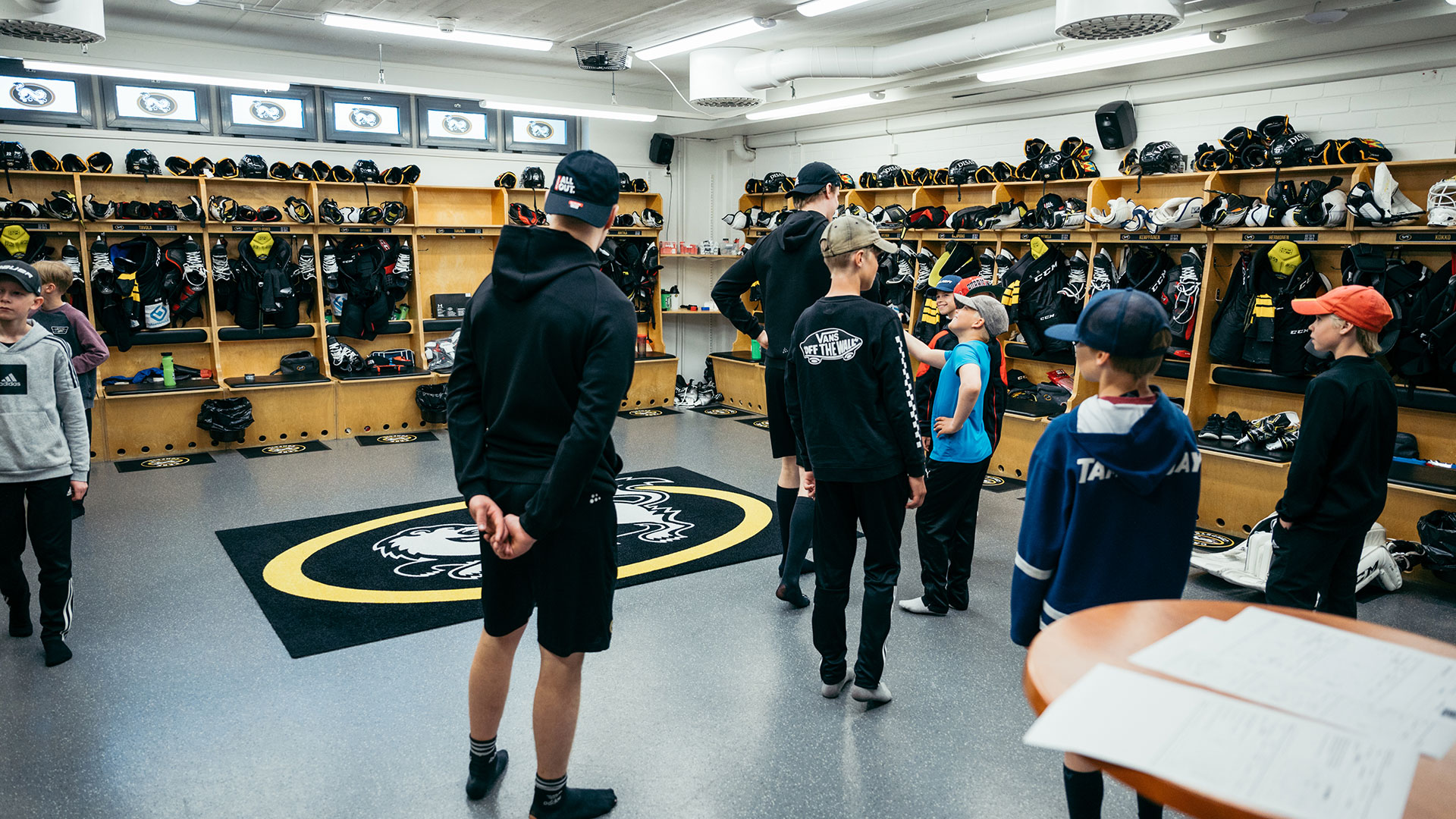 Participants on the changing room round in the anti-bullying event had plenty of questions for Kärpät players.
Team sports provide the readiness and skills for life also long after a sports career or hobby has ended. Among other things, in a team you learn to value others, teamwork skills, incentives, winning and losing together. There is plenty of space for individual growth supported by a team you can trust.
"We try to promote a good life and to get people moving by our example. Needless to say as a top sports team our goal is to win as well as to create emotions. To caricature it, we provide circus entertainment for people – wins and losses," Marjamäki laughs.