Oulun Energia is already exploring a future without peat
21.02.2023
A significant chapter in Oulun Energia's history will close when the company discontinues the use of peat in 2024. The history of peat is distinguished, but climate change is forcing a new era to begin.
Last December, Oulun Energia's board decided that Oulun Energia will discontinue the use of peat in 2024. This decision is historically significant, and although the war in Ukraine has revolutionised the energy market and caused much uncertainty, Oulun Energia is still committed to the 2024 deadline.
"At least at the moment, we cannot foresee anything that would force us to abandon the 2024 target. Hopefully, the world situation will soon calm down and there will be no need to make changes to the plans," says Pertti Vanhala, Business Director of energy production at Oulun Energia.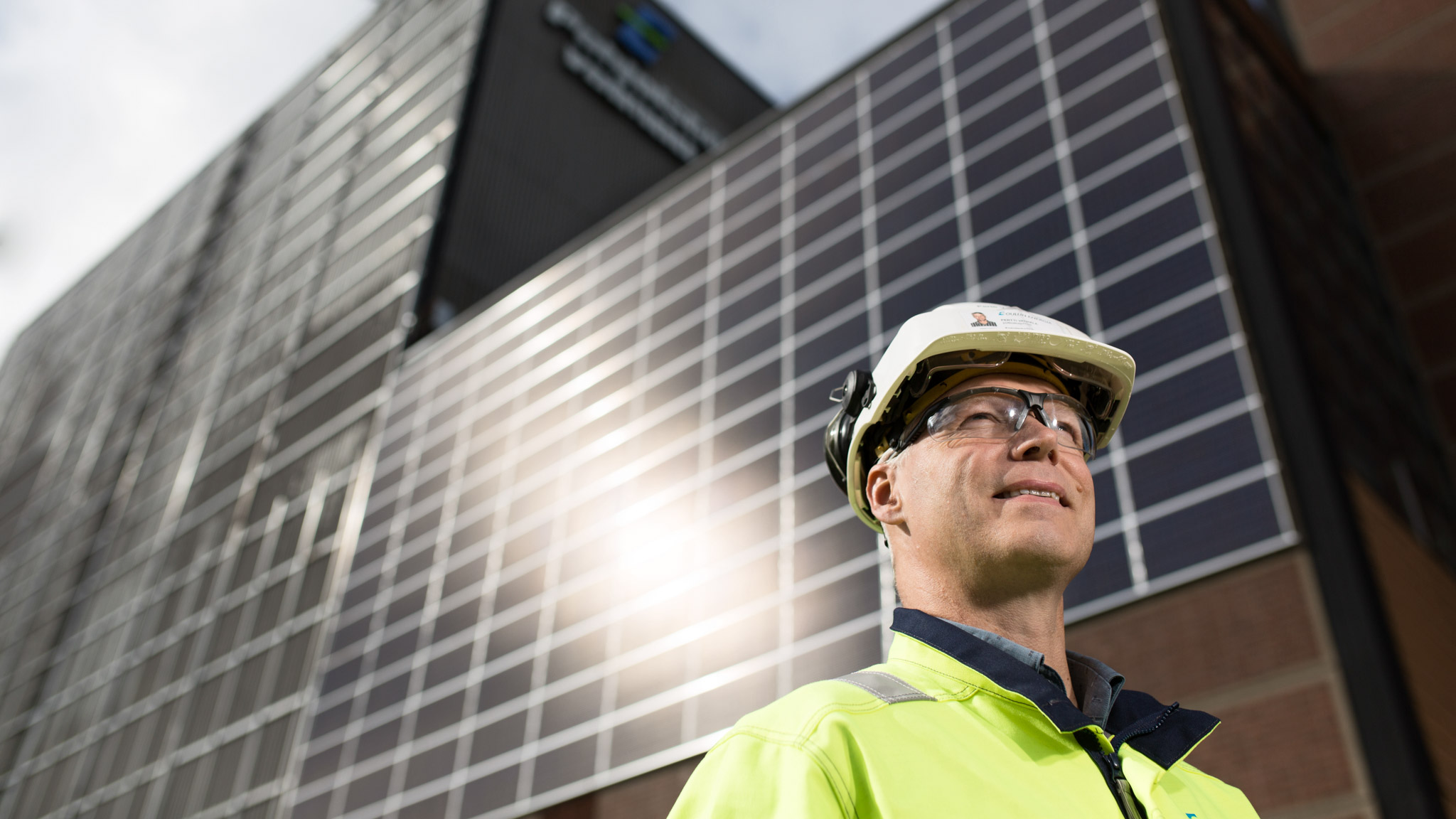 Pertti Vanhala, Business Director of energy production at Oulun Energia, is already looking well into a post-peat future.
The reason for discontinuing the use of peat is Oulun Energia's desire to be carbon neutral in its energy production. The target year is set to 2030, but the company is working to achieve it even sooner.
"Peat has served Oulu's energy production for more than 40 years and has provided work and livelihood for the region. However, the climate impact of peat is so great and its costs in the EU emissions trading scheme have become so high that we can no longer rely on it," states Pertti Vanhala.
Peat is considered a fossil fuel in emissions trading and its carbon dioxide emissions must be paid for. The emission charge of a ton of carbon dioxide has more than quadrupled in the last year.
"The history of peat is distinguished, as it has enabled us to produce heat for the people of Oulu using local energy and to successfully keep the price of district heating competitive over the decades. However, it is time for a new era where we must break away from fuels that are harmful to the climate," Vanhala states.
Woody biomass to replace peat
Oulun Energia has been replacing peat by increasing the use of woody biomass from side streams in the forest industry.
"We are ready for change, because after the modifications at Toppila 2 this year, we will be able to use wood as an energy source there 100% of the time. The Laanila biopower plant is already able to receive all fuelwood fractions, and Laanila has been operating for several weeks at the beginning of the year completely without peat," Pertti Vanhala says.
The aim is to continue to source the necessary wood locally.
"New wood-processing industries are entering the region and sawmills are used to increase the use of wood. This will increase the amount of side streams of the forest industry for energy use. That is why we believe that we will continue to be able to produce heat with a solution based on local energy," Pertti Vanhala states.
In 2021, foreign imported wood accounted for 7.3% of all wood fractions used at Oulun Energia. Of that, 4.9% was imported from Russia and 2.4% from Sweden. Due to the war in Ukraine, Oulun Energia suspended the use of Russian forest chips in March.
Solid Recovered Fuel (SRF) also replaces peat in energy production. It is a mixed waste that is not suitable for material recycling, which Oulun Energia directs from the Rusko waste sorting plant to be incinerated at the Laanila biopower plant. Last year, SRF produced 9% of the company's total energy.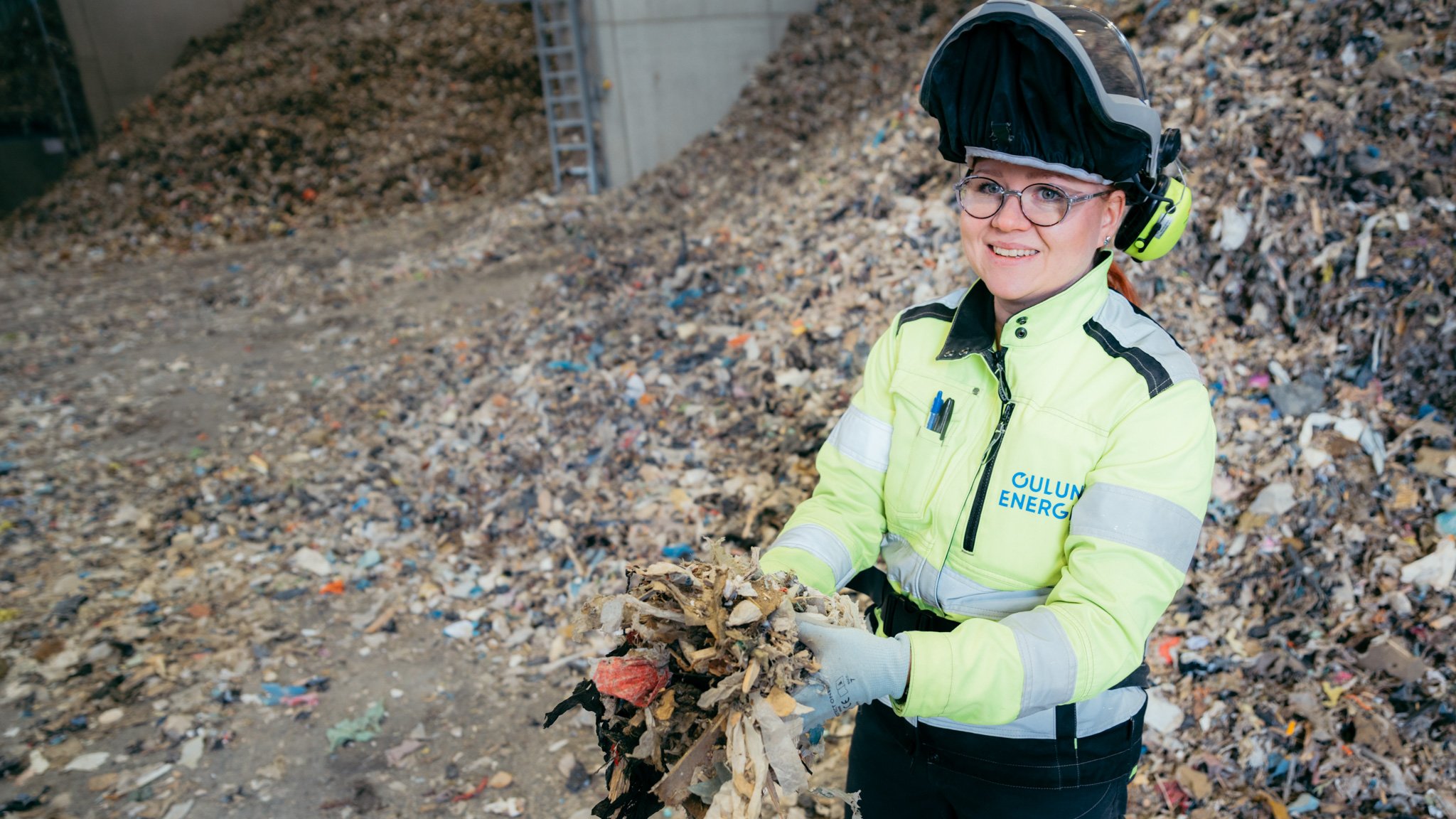 Saara Palo-oja, Project Manager at Oulun Energia, presents waste suitable for Solid Recovered Fuel at the Rusko waste sorting plant.
At the same time, in 2021, the share of peat as an energy source decreased from 37% to 24%. Woody biomass, meanwhile, was used more than ever, its use increasing by 66% from the previous year.
The future challenges us to find new solutions
The decision to discontinue the use of peat is an important point in Oulun Energia's path to carbon neutrality.
"The decision to start using peat was significant in Oulu in the 1970s. At the time, there was faith that energy could be produced from local energy sources instead of from oil. We are now at the same juncture. Climate change is challenging us to make big decisions," says Juha Juntunen, Managing Director at Oulun Energia.
Oulun Energia's long-term goal is to find ways to produce energy that are not based on incineration or that can be used to produce completely emission-free energy.
"We are exploring a wide range of options and we believe that in the future, various different sources of heat could be fed into the district heating network, such as commercial waste heat, geothermal heat, and waste heat from the hydrogen economy. We are actively working with different entities to find these solutions," states Juha Juntunen.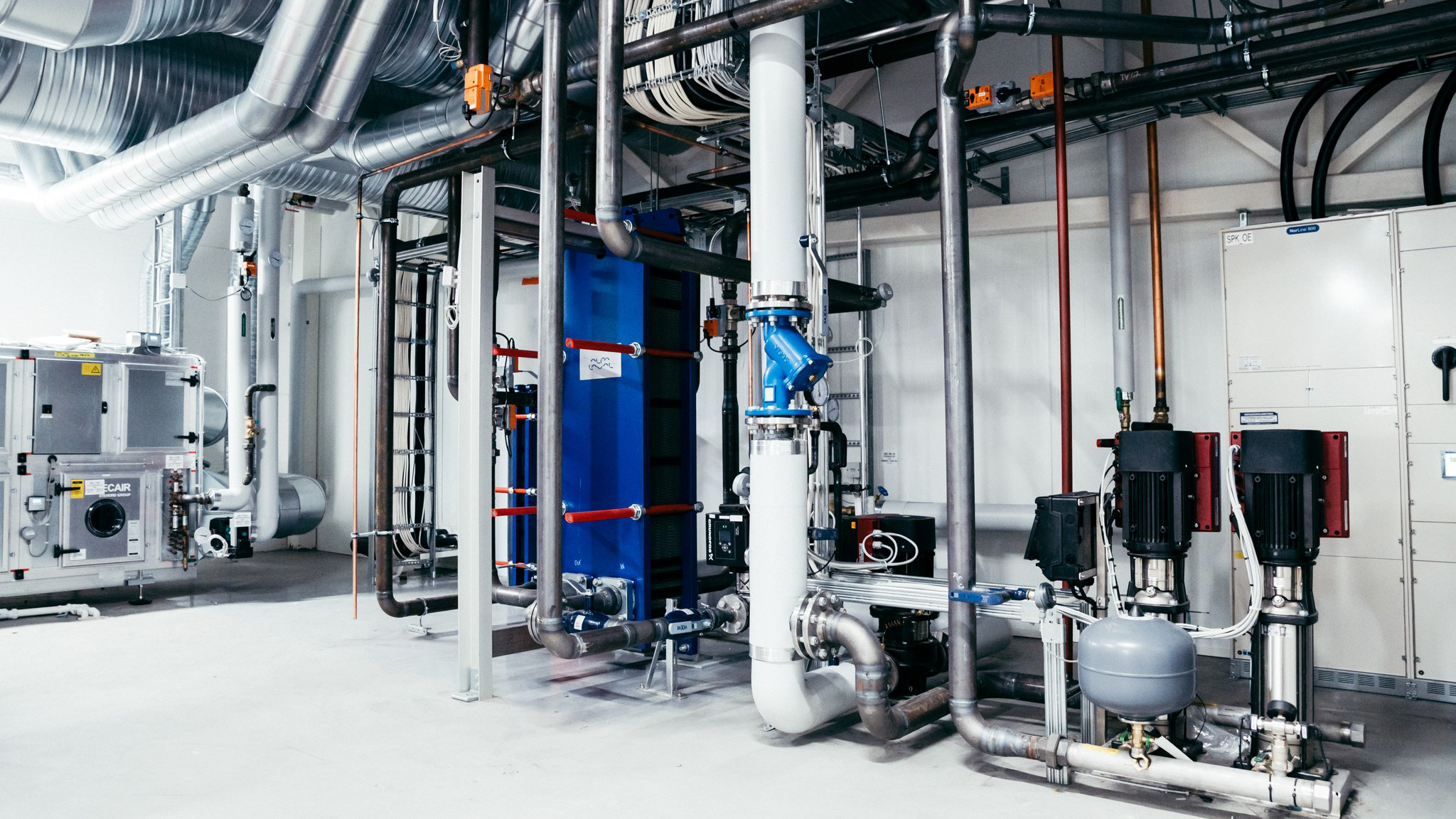 The waste heat from the refrigeration appliances of the Ritaharju S-market is captured for the property's own needs and a portion is pumped into Oulun Energia's district heating network.
Oulun Energia already has several different projects under way that are using the new methods, and they are being further developed to be even better. For example, a complex with a grocery store, school, and blocks of flats is being built in Kaukovainio where the energy production combines commercial waste heat, district heating, heat pumps, and solar energy.
"This is the future of energy production. We are faced with a similar situation to the one Oulun Energia faced in the 1970s during the oil crisis. There was faith that the new solution, peat, would work and could be used to heat the homes of the people of Oulu. In a similar sense, we now, in a new situation, look confidently to the future," Pertti Vanhala says.
This article was originally published in the Oulun Energia customer magazine in January 2022. Written by Heidi Korva.