Conserving electricity has a significant impact on the electrical power grid load
08.02.2023
Measures to conserve electricity have been taken seriously in the Oulun Energia Sähköverkko area. The load on the electrical power grid has decreased significantly this autumn compared to previous years, even though the average temperature has stayed the same. The good outcome is thanks to Oulun Energia Sähköverkko's customers.
The load on the electrical power grid has significantly decreased this autumn. When comparing the differences between October 2021 and October 2022, consumption has fallen by as much as 8% compared to the previous year. According to Janne Kaarlela, customer relations manager at Oulun Energia Sähköverkko, the reason for the decrease in consumption is a change in customers' consumption habits.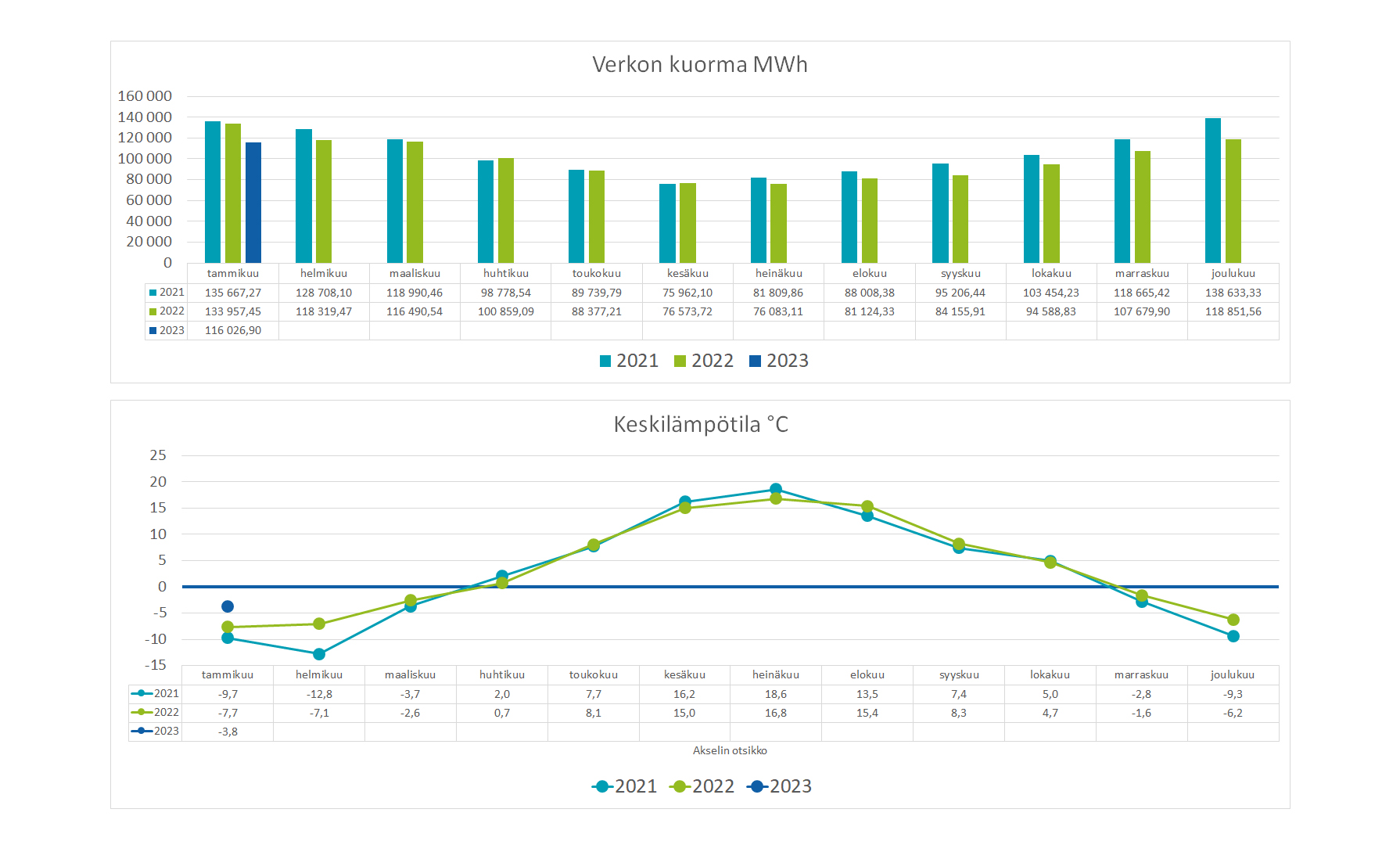 Image: The electrical power grid load (MWh) in Oulun Energian Sähköverkko Oy's area between 2021–2023.
"I'm sure this is because people have started to conserve electricity," Kaarlela states.
People are now trying to conserve electricity especially in heating. According to statistics, heating is the biggest consumer of household electricity. The consumption peaks always take place during the cold winter months and in times of severe frost.
"Modern-day lighting uses so little electricity that heating is where the consumption happens. It's true, consumers can lower their electricity bills by conserving heating and hot water. These are the important measures. A one degree drop in room temperature can translate to a 5% savings on the electricity bill," Kaarlela notes.
People have become more interested in solar energy and being more electrically self-sufficient in the last year. According to Janne Kaarlela, there has been a clear increase in solar power in the Oulun Energia area as well. The number of solar energy sites connected to the electricity network has increased by about 70% this year. However, solar power is not a comprehensive energy solution.
"It doesn't really help during the winter season when there is little sun," Kaarlela shares.
There are many ways in which the consumer can influence their own electricity consumption and thus the total amount of their electricity bills.
Tips for conserving electricity
Businesses take part in the electricity conservation campaign
Households, public entities, and businesses all have a share in the electrical power grid load. Do an individual's consumer's choices really matter in the big picture?
"Of course. Peak demand quite clearly takes place during the times when people are at home, cooking, and heating up the sauna," Kaarlela says.
However, Kaarlela notes that especially businesses have strongly reacted to the electricity conservation campaign and highlighted their own participation in it in different media.
"Especially business customers are contacting us and being active. They are of course worried about potential power outages due to shortages and criticality classifications, meaning the order in which outages might have to be enacted," Kaarlela states.
If the load on the electrical power grid exceeds the amount of electricity available, electricity companies, instructed by Finland's transmission system operator Fingrid, may have to enact controlled outages where the supply of electricity would be interrupted regionally for a two-hour period. Preventive measures and individually timing the use of your electricity outside peak demand will significantly reduce the need for planned electricity outages. However, it is a developing situation based on the severity of the winter frost and how Olkiluoto 3 is able to take part in electricity generation.
"It isn't windy in severe frost, which means no wind power to generate electricity either," Kaarlela states.
Kaarlela recommends Fingrid's practical Tuntihinta app (in Finnish only), which allows consumers to monitor the market price of the electricity exchange. The price information allows consumers to reduce their use of electricity when the load is most strained and to time their usage for the cheaper hours.
Kaarlela does not believe that the current energy crisis will slow down society's rapidly progressing process of electrification. Electric cars, for example, will increase the forecasted consumption of the future. How the energy conservation practices will remain instilled in people's minds remains to be seen.
"It will be interesting to see if the situation calms down at some point and whether electricity users will remember the measures. I'm curious to see how the situation develops," Kaarlela says.