Contributing to regional vitality
Oulun Energia is owned by the City of Oulu, and in addition to the direct benefits of our operations we generate revenue for the city and provide employment for local residents, both directly and indirectly. We also promote regional vitality by providing affordable local energy to residents and businesses in the region, and by maintaining a high level of security of electricity and heat supply.
Investment in the region and revenue for the City of Oulu
In our continuous development of efficient, affordable and carbon-neutral energy production, Oulun Energia invests millions of euros every year in the Oulu region. In 2022, we invested nearly EUR 35,1 million, in particular in the renovation of power plants and maintenance and expansion of the heating and electricity network.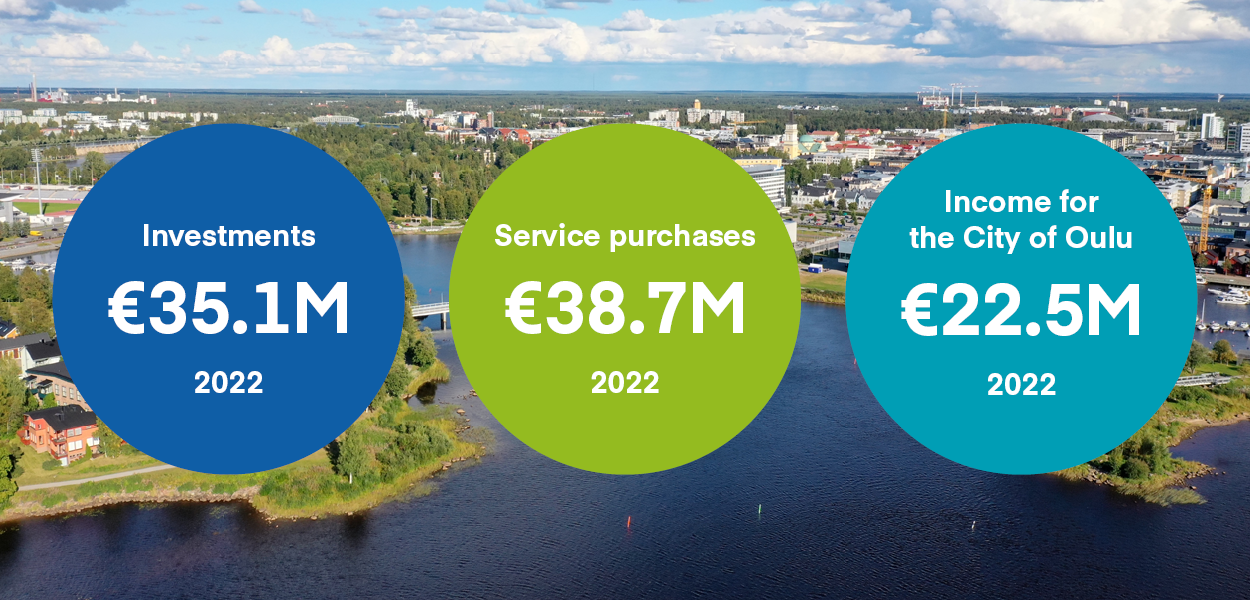 Each year, we generate significant sums of money for the City of Oulu in dividends, payments for reserve for invested non-restricted equity, loan repayments and loan interest. In 2022, these amounted to a total of EUR 22.5 million – equivalent to the combined salaries for more than 400 nurses for a year.
In addition to more than 240 employees of its own, Oulun Energia contributes indirectly to employment through the services it purchases, in areas such as information and communications technology, consultancy, legal services, cleaning, and security services.
Supporting sports clubs and environmental projects
The Oulun Energia group also sponsors local sports clubs and culture, as well as financially supporting various environmental projects.
The main recipients of our grants for sport and culture in 2022 were Oulun Kärpät, AC Oulu, the Qstock annual rock festival, and the Oulun Luistinseura multi-sports club.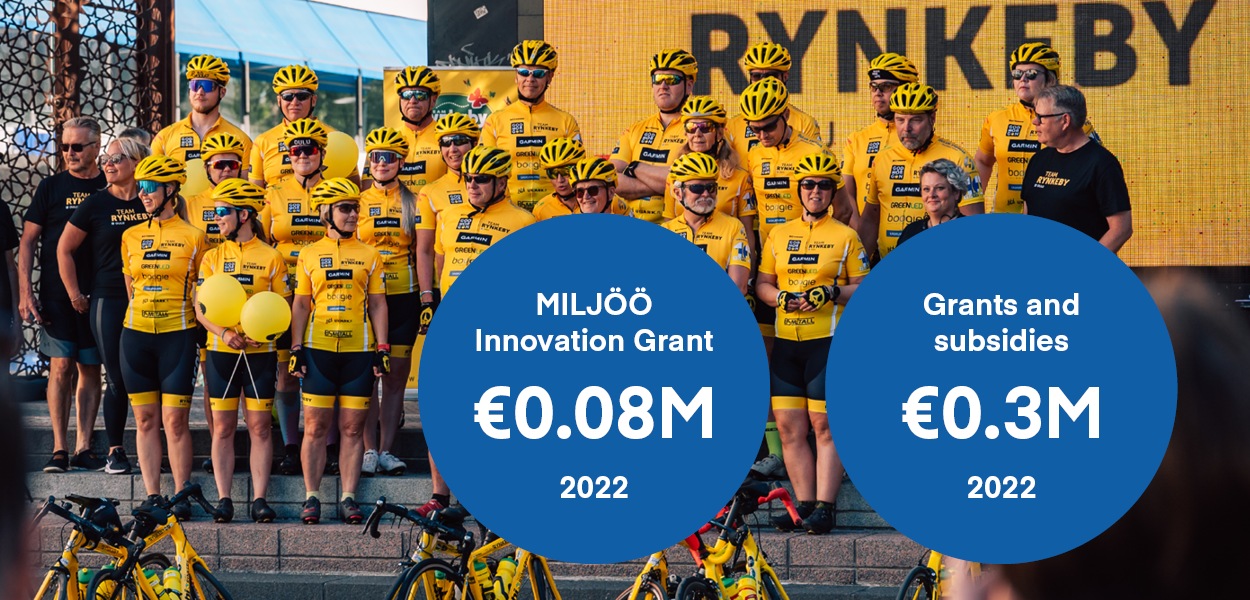 Oulun Energia is funding sustainability-promoting projects through the Miljöö Innovation Grant. The nationwide grant is intended, among other things, for research on different energy and circular economy solutions and projects that further carbon neutrality, and to promote technological innovations.
Collaborative research for the environment
Oulun Energia is one of the largest organisations in the Oulu region, and works closely with research institutes, municipalities and other companies in research and education.
We continuously monitor and improve the impact of our operations on the environment, especially on waterways.
School partnerships and summer jobs
Oulun Energia collaborates extensively with Oulu University of Applied Sciences, OSAO vocational college, and the University of Oulu. Many of our experts contribute to the planning and implementation of courses, and in return we offer students the opportunity to be involved in developing Oulun Energia's operations.
We also offer positions every year for students working on their theses, and the thesis projects that began at Oulun Energia in 2022 covered topics such as the improvement of occupational safety management, calculating carbon emissions from the company's own operations, and development of an electric district heating plant. We also employ many students during the summer in particular. Our aim is to offer a wide range of job opportunities for students from different sectors.
Reliable electricity supply is our key mission
As an energy company, it is essential for Oulun Energia to ensure businesses for which a reliable electricity supply is critical can confidently operate in Oulu and the surrounding region.
Oulun Energia Sähköverkko Oy has managed to maintain a high level of security of electricity supply for many years through systematic investment and maintenance programmes.
Proactive maintenance of the electricity network is carried out on a regular and planned basis, and the main way to prevent weather-related disruptions is by relocating the electricity supply cabling underground. We also aim to minimise the harm that could result from disruptions to electricity supply through fast and efficient repairs. In line with our target, the proportion of terrestrial, i.e. underground cabling has increased by about one percentage point per year, and 90 % of the network was terrestrially wired in 2022.
Forecasting electricity production is a responsible strategy
In addition to security of supply, the price of energy indirectly affects the vitality of the region, and Oulun Energia does its part to keep energy prices reasonable.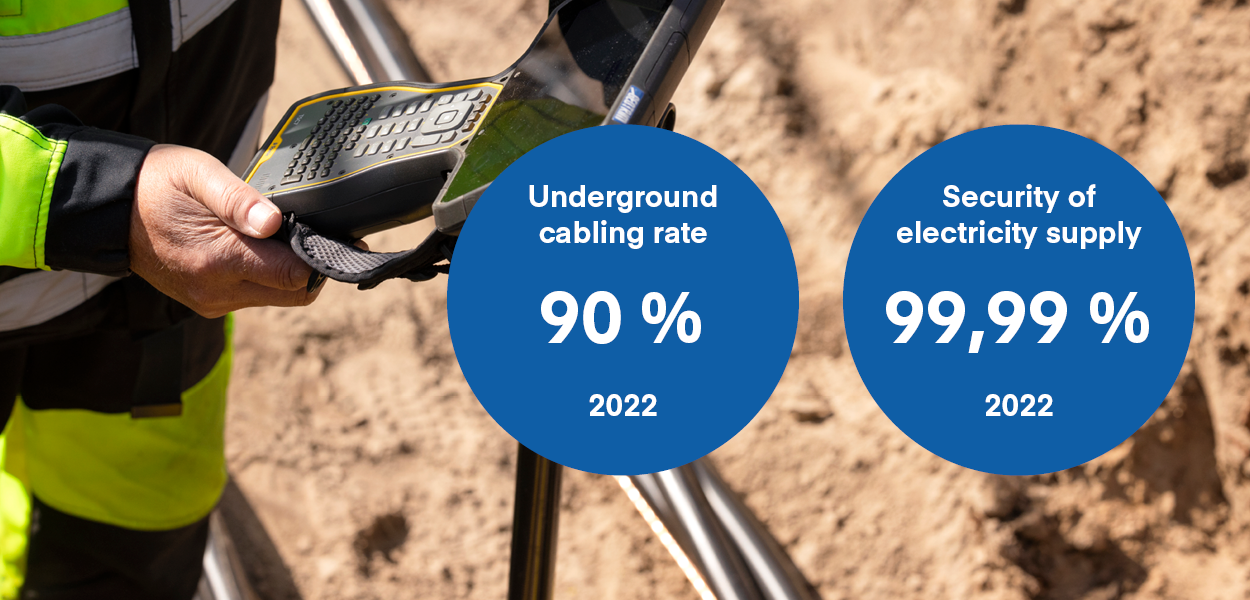 For electricity transmission, network service prices (formerly transmission prices) are strictly regulated by law, and legislation that came into force at the start of 2022 has made regulation in this area even more stringent. The price of electricity, by contrast, is determined by the market and is affected not only by production factors but also by the relationship between supply and demand. One of Oulun Energia's tasks is to contribute to maintaining a balance between production and demand. As part of acting responsibly and ensuring continually sustainable operations, it is important to generate electricity proactively and keep all the production plant and other equipment in good working order so as to prevent unexpected disruptions.
Choice of heat sources matters
When it comes to heating, we can also help to control the price of energy through our choices and actions. The choice of energy source plays an important role, as the prices of different fuels depend on factors such as taxation and other regulations. Whereas fuel wood costs about twice as much as recycled fuel, peat costs five times as much and oil ten times as much. And in addition to price, the security of supply and technical suitability of the various sources of fuel used by the power plant must be taken into account.
For Oulun Energia, the price of wood chips, an important source of heat, is determined to a large extent by labour costs in production. These account for more than 80% of the price. Oulun Energia can exert some control over the productivity of the supply chain by various means, for example by optimising the fuel reception process and transportation. In addition, we are continually improving the processes in our power plants to make energy production as efficient as possible. There is also a significant impact from the losses that occur in the process of distributing heating to customers through a district heating network of around 900 kilometres. Investing in reducing heat loss also reduces the amount of fuel needed to produce heat, thereby lowering production costs.
Customers can also do their part to promote efficient energy use. For instance, waste heat from the premises of the Osuuskauppa Arina company is redirected into the district heating network. Oulun Energia is constantly working to promote the use of waste heat, and it has been calculated that there is the potential to produce up to 10% of the district heating needed in the Oulu region from waste heat.
Properties that require a lot of cooling, such as supermarkets, generate significant amounts of waste heat that could be channelled into the district heating network.
Ensuring security of supply
Ensuring long-term security of supply is one of Oulun Energia's most important tasks. Our fuel procurement continues to be domestically focused, and 90% of the fuel we use comes from Finland. The imported fuel we use is procured as locally as possible, i.e. from within the Baltic Sea region. For global political reasons, we are also exploring other procurement options.
The main pillars of Oulun Energia's fuel supply are fuel wood from forestry by-products, and waste-derived recycled fuel. The supply of the latter is independent of the cyclical nature of the forest industry. In heat production, peat also plays a role in ensuring Oulun Energia's security of supply until the end of 2024.
The forest industry in northern Finland is growing, and a number of new production plants will come into operation from 2025. This will also bring about an increase in the volume of industrial side streams, which will further improve our security of supply following our discontinuation of the use of peat.
Syklo makes the circular economy easy
One of Oulun Energia's priorities is the development of circular economy solutions at the sorting plant of our subsidiary Skylo. This sorting plant enables better recycling and reuse of materials by processing commercial waste, industrial waste, and construction and demolition waste.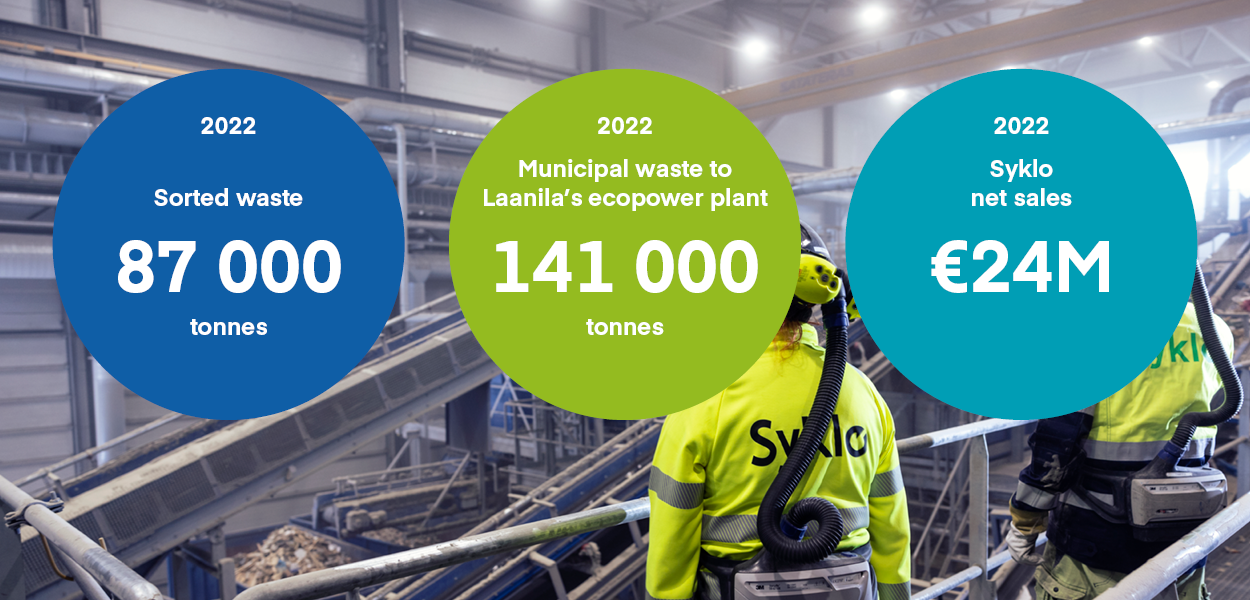 Syklo aims to triple the amount of recyclable waste we use by 2025, and new ways are being developed to achieve this.
The plant converts the waste into SRF recycled solid recovered fuels and recycled wood chips, which are then supplied to Oulun Energia's Laanila biopower plant. These will replace peat and wood fuel as energy sources. In 2022, the fuel produced and purchased by the circular economy – that is, recycling and solid recovered fuels consisting of wood from demolitions and recycled wood chips – contained 312,000 megawatt-hours of energy, equivalent to the amount of energy needed annually to heat almost 16,000 private homes.